Webmaster
More Sub Categories under this Section:
Last Update: Wednesday, December 26, 2018 At: 18:6:48 (Total Listings: 12)
Useful Sites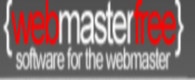 Webmasterfree

Webmaster free has a wide selection of webmaster tools that you can download and use for free including email tools, office tools, server tools, system utilities and lots more.
(Listed On Sun Aug 26 12:50:49 2007)
Listings
Find Duplicate Content (Free)
This very useful piece of software will enable you to compare two files, folders, or web pages. You will be able to see the differences instantly as they will be highlighted for you in colour. The best thing is that the software will not cost you a penny as it is completely free to download and use.
(Date Listed: Tue Apr 4 14:00:12 2006)
Free Website Localization
By going to this website you can get your website translated for free. Instead of just allowing english readers access to your site by using the free services available here you will be able to reach a much wider audience by having your site available in different languages.
(Date Listed: Tue Apr 4 14:00:12 2006)
Bravenet Webmaster
Visit the Bravenet Webmaster site and access useful resources to create a professional and fun web page. From articles and tutorials, making money online, promoting your website and building your own website, Bravenet which originally started in 1997 contains fully customizable, interactive, remote tools especially created for webmasters. Bravenet is ideal for webmasters looking to start out on their own for the very first time!
(Date Listed: Sun Aug 26 12:50:49 2007)
Webmasters Help
At Free Webmaster Help you can get exactly that, tutorials, articles, tools, templates, and more all for nothing. So if you are looking to develop your website without spending any cash on it then this is the site for you.
(Date Listed: Tue Apr 4 14:00:12 2006)
Tools And Resources
collection of quality tools and over 1400 Directory resources for your web development needs with insightfull articles and tips.
(Date Listed: Tue Apr 4 14:00:12 2006)
In this section we hope to develop into and include a lot of Webmaster tools and offers (FREE of course) to either make your WebPages or host them somewhere or just to get a cheap domain name, webmaster tools and utilities on the free stuff site will also act as a knowledge base where you can reference programming tools as well, we hope you have enjoyed what we have done so far and look forward to supplying you with the very best the internet has to offer.
(Listed On Tue Apr 17 23:41:05 2007)
Back to TOP of page: