Counting Words Copyright © Free Stuff ME UK
recent version V1.0.0
Another little application that came about for my own personal use but thought I would share it, we all know about counting words in individual Microsoft word documents but I needed something to count words in several word documents and create a little report for me, this program does exactly that, please let me have any suggestions or features you would like to see for the future.
This program is Freeware "FREE" and anyone can use it for whatever purpose the only restrictions are it cannot be sold and/or distributed in any fashion other than on the original Free Stuff Website or by Globel Limited and related companies (Unless Written Consent Given!), if you obtain this application anywhere else other than Globel or Free Stuff please inform us and support our free sites, no other distribution rights are granted please contact us if you are interested in offering it on your site,
Thanks
Paul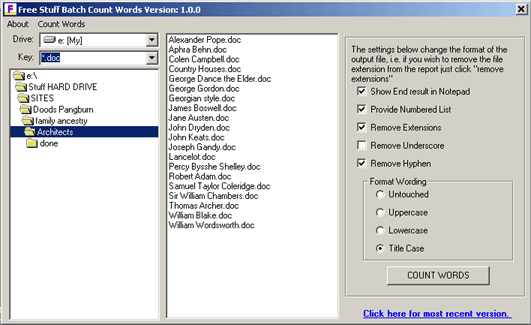 The resulting list produced in a few seconds by the program!